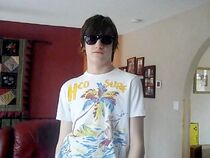 Villain is the main character of How to Be a Villain and also appeared on High School Humor. He is a very over the top villain and does lot's of stupid things. While teaching the audience how to be a villain he usually fails at it. He doesn't know how to do any villainous act. Whether it be eating delicious apples, throwing his shades off, or saying witty catchphrases. Villain's motives for being a villain are unown and his arch-enemy, the hero, is currently unown also. Villain is portrayed by ILVGwebmaster in all of his appearences.
Personality
Edit
For the apple episode, ILVGwebmaster had to tear apart a whole apple with his mouth as that is what the scripts called for.
In his first three appearences, he is without his costume. However he finally gets it in episode 4.